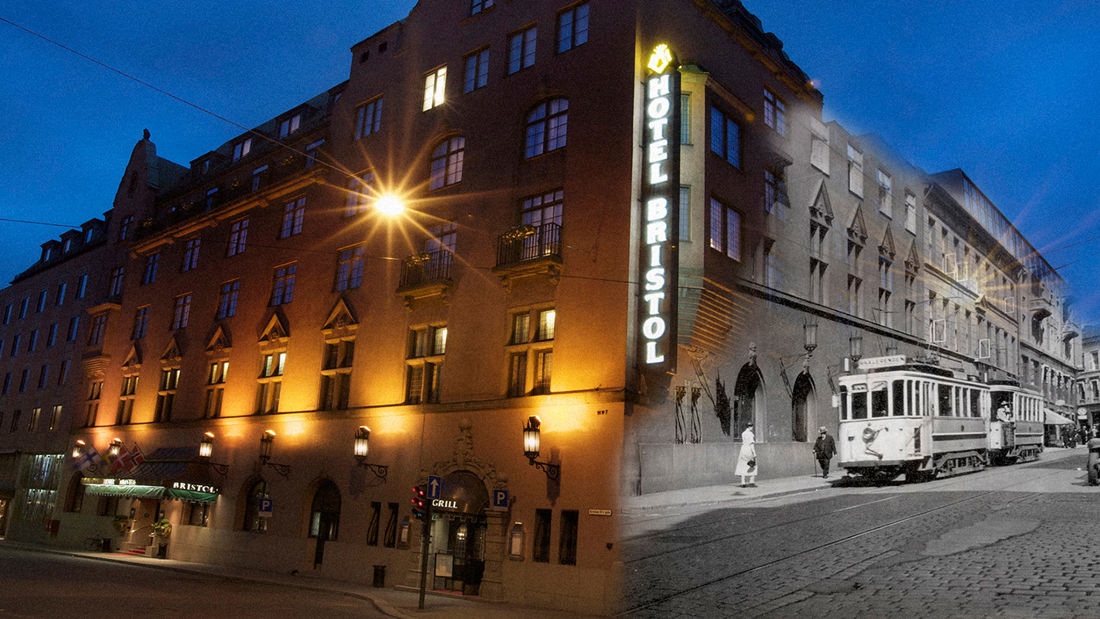 The history of Thon Hotels
Thon Hotels was founded under the name Rainbow Hotels in 1989. Today the hotel chain encompasses more than 90 hotels in Norway, Sweeden, Denmark, Brussels and Rotterdam.
When Olav Thon founded Rainbow Hotels in 1989, his business model was to establish centrally located hotels offering affordable room rates. Following extensive reconstruction and re-branding, the name of the chain was changed to Thon Hotels in October 2005. In recent years we have further refurbished many of our hotels and are presenting our refreshed and dynamic brand to the hospitality market. We have remained true to Olav Thon's vision – when you stay with us, you can still count on your hotel being affordably priced and centrally located. Yet with our freshly refurbished hotels and enhanced services, we have become so much more – at Thon Hotels you really do get a "full package" hotel experience.
| | |
| --- | --- |
| Year | Milestones in Thon Hotels' history |
| 1974 | Olav Thon purchases the Hotel Bristol. |
| 1983 | Olav Thon purchases the Hotel Munch and opens Oslo's first bed & breakfast hotel. |
| 1989 | Rainbow Hotels is founded, with 11 hotels in its portfolio. Rainbow Hotel Polar, Rainbow Hotel Munch, Rainbow Hotel Vika Atrium, Rainbow Hotel Cecil, Rainbow Hotel Bryggen Orion, Rainbow Hotel Trondheim, Rainbow Hotel Rosenkrantz, Hotel Sverre, Rainbow Hotel Høyers, Rainbow Hotel Bergen Airport and Rainbow Hotel Astoria. |
| 1990 | Signs a partnership agreement with Rainbow Hotel Sandnes. Acquires Rainbow Hotel Gyldenløve in Oslo. |
| 1991 | Purchases Hotel Stefan and Hotel Europa in Oslo. |
| 1992 | Rainbow Hotel Hallingdal joins the chain. Tulip Inn Rotterdam opens. |
| 1994 | Slottsparken Apartments joins the Rainbow chain. Opens Rainbow Hotel Spectrum in Oslo and Rainbow Hotel Gildevangen in Trondheim. |
| 1995 | Establishes a presence in Brussels with Golden Tulip Brussels Airport and Hotel Bristol Stephanie. Opens Rainbow Hotel Terminus in Oslo and Rainbow Hotel Bristol in Bergen. |
| 1996 | Olav Thon purchases the Summit Stanhope Hotel in Brussels. |
| 1997 | Opens Rainbow Hotel Maritim in Stavanger. |
| 1998 | Opens Rainbow Hotel Oslofjord in Sandvika and acquires Tulip Inn Brussels Boulevard. |
| 2000 | Opens Rainbow Hotel Nordlys in Bodø and Rainbow Hotel Vettre in Asker. |
| 2001 | Opens Rainbow Hotel Opera in Oslo and Rainbow Hotel Brygga in Tønsberg. Purchases Thon Conference Gardermoen Park. |
| 2002 | Opens Rainbow Hotel Harstad and Rainbow Hotel Arena in Lillestrøm. Acquires Carlton Hotell in Lillestrøm (Thon Hotel Lillestrøm). Gausdal Hotell and Austlid Fjellstue join the Rainbow chain. |
| 2003 | Opens Rainbow Hotel Ski and Rainbow Hotel Wergeland in Kristiansand. |
| 2004 | Rainbow Hotel Moldefjord and Rainbow Hotel Åsgårdstrand join the Rainbow chain. |
| 2005 | The chain changes its name to Thon Hotels. Acquires Thon Hotel Triaden in Lørenskog and Thon Hotel Arendal. Purchases Torghatten Hotell in Brønnøysund (Thon Hotel Brønnøysund). |
| 2006 | Strand Hotell Gjøvik becomes Thon Hotel Gjøvik. Opens Gardermoen's first budget hotel, Thon Hotel Gardermoen. Thon Hotel Linne joins the chain. |
| 2007 | Thon Hotel Hammerfest joins the chain. Opens Thon Hotel Oslo Airport. Thon Hotels begins the process of gaining Eco-Lighthouse certification for all of its hotels; this certification is granted to businesses with environmentally responsible practices. |
| 2008 | Opens Thon Hotel Kautokeino, Thon Hotel Charlottenberg (Sweden) and Thon Hotel Oslo Panorama. Thon Hotel Vica in Alta joins the chain, as do Thon Hotel Highland and Thon Hotel Vestlia Resort, both in Geilo. |
| 2009 | Opens Thon Hotel Halden, Thon Hotel Lofoten in Svolvær, Thon Hotel Ullevål Stadion, Thon Hotel Kristiansund and Thon Hotel Torghatten in Brønnøysund. Thon Hotels enters into a partnership agreement with First Hotels. |
| 2010 | Opens Thon Hotel Tromsø, Thon Hotel Alta, Thon Hotel Kirkenes and Thon Hotel Bjørneparken in Flå. Thon Hotel Prinsen in Trondheim joins the hotel chain. Thon Hotel Sandviken Brygge and Thon Hotel Gjøvik leave the Thon Hotels chain. |
| 2011 | Thon Hotel Sandven in Norheimsund and Thon Hotel Backlund in Levanger join the chain. |
| 2012 | Thon Hotel Elverum, Thon Hotel Saga in Haugesund and Thon Hotel Høvik join the chain. Thon Hotel EU opens in Brussels. Thon Hotel Highland and Thon Hotel Vestlia Resort leave the Thon Hotels chain. |
| 2013 | Vårsøg Hotell in Surnadal joins the chain (Thon Hotel Vårsøg). Britannia Hotel in Trondheim and Thon Hotel Kristiansand also join Thon Hotels. |
| 2014 | Thon Hotel Fosnavåg and Thon Hotel Rosenkrantz Oslo open. |
| 2015 | Thon Congress Gardermoen opens. Thon Hotels celebrates its 10th anniversary with a countrywide tour. |
| 2016 | Thon Hotel Rosenkrantz Bergen and Thon Hotel Stavanger open. |
| 2018 | Thon Hotel Storo opens. |