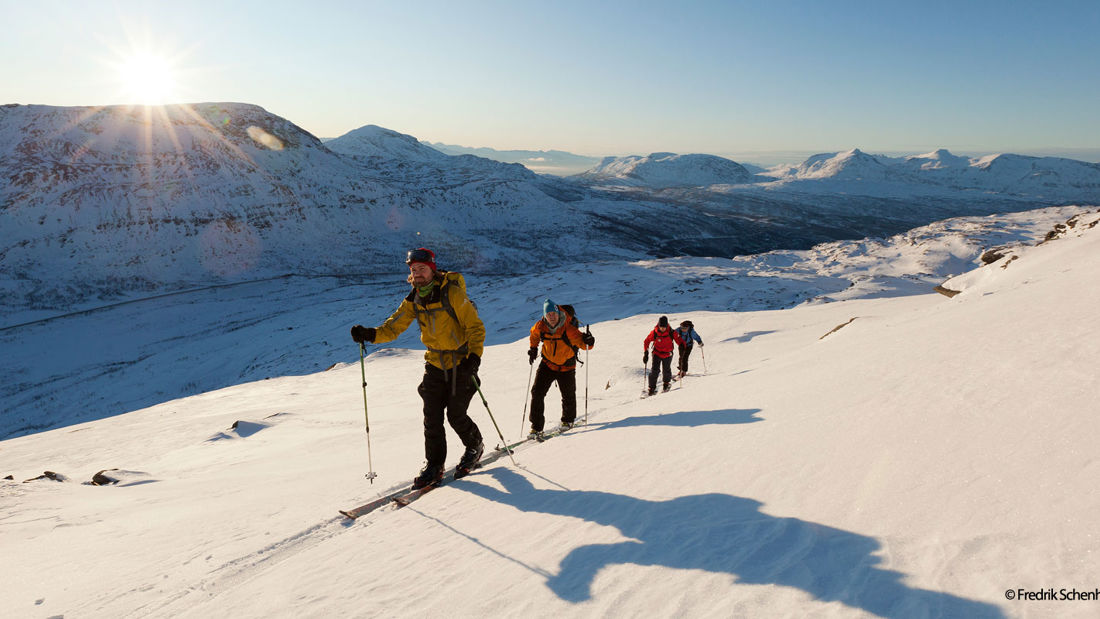 Things to see and do in Narvik
Combine your hotel stay with an amazing experience in the wilds of Narvik.
Narvik is ideally situated in Northern Norway's arctic landscape. The town is surrounded on all sides by the breath-taking natural features of mountains and fjords. The region offers recreational activities for every taste and mood from arts & culture, heritage and history to breath-taking scenery.
With short distances to Lofoten, Vesterålen, Troms and Northern Sweden, this is your ideal destination for a weekend break or extended holiday. 
Summer-season skiing
Narvikfjellet offers skiing or snowboarding from 1,000 metres above sea level down to near-sea level. Narvikfjellet is famed for its unique view of the town, and not least the fjord. The ski resort has five ski lifts and a gondola cable car. This family-friendly resort has a kiddies slope, but is also famous for its unique off-piste slopes. Take the gondola lift to the restaurant and explore Fjellheimen on foot.
Narvikfjellet is also open in summer and is a popular viewing point for experiencing the Midnight Sun.
Narvik War Museum
Discover Norway's fascinating World War II history at the War Museum in Narvik. This recently modernised museum is located in the Narvik Centre. With 1,600 m² on three floors, the focus is not only on the 1940 Battles of Narvik, but a comprehensive account of the wartime history of Northern Norway.
Polar Park - Arctic Wildlife Centre
Polar Park - Arctic Wildlife Centre is one of Northern Norway's most popular tourist attractions, and is famed as the world's northernmost wildlife park. The park covers 1,140,000 m2 of unspoilt and scenic countryside in Salangsdalen in the municipality of Bardu in Troms County.
The biggest attraction is Wolf Camp, where you can enter the enclosure to meet the wolves at close quarters.
Ofotbanen (railway)
The Ofot Line between Kiruna and Narvik is often claimed to be one of the most spectacular railway lines in the world.  The line climbs from sea level up the vertical mountain sides with their sheer drops to the deep fjord. At some points, the tracks are set in a narrow cliff ledge 600 metres above the fjord, which makes for a dizzying thrill.
Vinterfestuka - Winter Festival
Vinterfestuka is one of the most well-visited festivals in Northern Norway. The week-long event is hosted annually in March and offers a wide range of cultural activities for all interests and age-groups.
Golf
Narvik's golf course has a season almost as long as the Bogstad course in Oslo, from April to November, weather permitting. This is on account of its sheltered location. How about teeing off at 2 am under the Midnight Sun?
Diving
In 1940, the Germans attacked Narvik. 10 German fighter planes and 36 destroyers and coastal defence vessels were laid to rest here. Today, Narvik is a paradise for wreck divers from all over the world. The well-preserved vessels and the clear, ice-free water make it possible to visit Norway's historic and fascinating WWII graveyard.