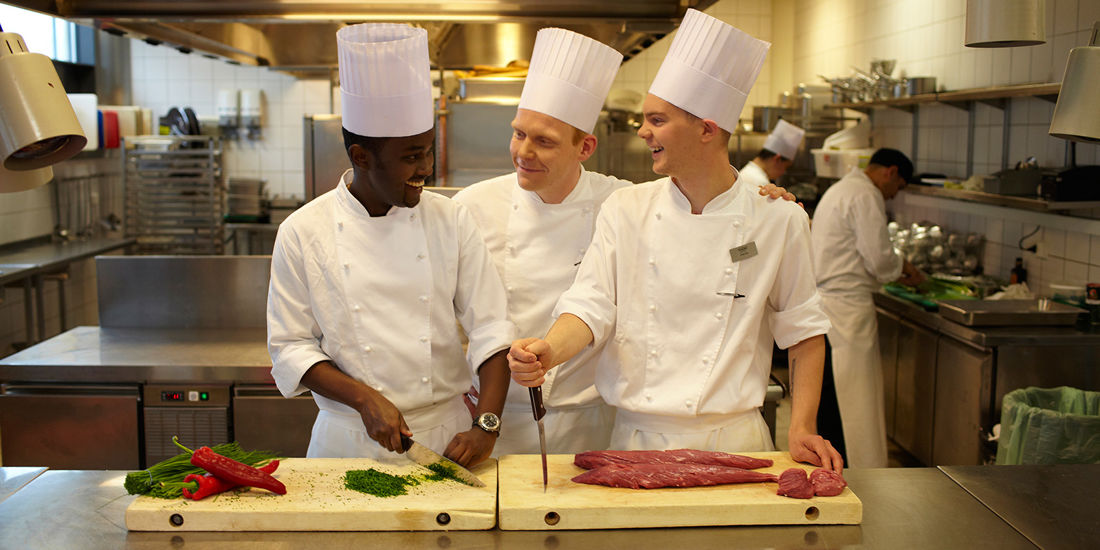 An inclusive workplace
The Olav Thon Group, spearheaded by Thon Hotels, works closely with the Norwegian Labour and Welfare Service (NAV)'s offices in Alna and Bjerke. Through this collaboration, our hotels offer internship and job recruitment opportunities to people struggling to find employment. Since 2013, 27 people have been offered internship opportunities.
Our partnership with NAV is intended to help job seekers with immigrant backgrounds to assimilate more smoothly into the Norwegian workforce. This really is a win-win situation for all involved; the candidates receive on-the-job training and the opportunity to network, while the hotels can tap into an invaluable resource of ready and willing potential employees.
Binta Bojan has worked as a backup waitress for Thon Hotel Opera since November 2015. She first came to us as a job candidate for Thon Hotel Vika Atrium, referred to us by NAV due to her background in the industry. Having worked for many years as a waitress in her native Gambia, she quickly demonstrated that there was no task she could not tackle, and we felt obligated to find her a more challenging position. We transferred her to Thon Hotel Opera, where she has since worked as a backup waitress helping to serve breakfast and dinner guests at Restaurant Scala, a job that is completely independent from NAV. Binta has told us that it's her friendly colleagues that make her happy to come to work every shift, and that she really enjoys the personal interaction and organisation skills involved in her job as a waitress. Binta's goal is to support herself without any help from NAV, and this is precisely what both NAV and OTG hope to accomplish through our partnership – that people who need a little help entering into the Norwegian workforce have access to the opportunities they need.
The Norwegian Red Cross and Stella
Stella (the Norwegian Red Cross's women's centre) is one of the women's outreach programmes run by Oslo's Red Cross, and is intended to be a diverse environment for women's empowerment as social and economic resources. Stella's job training programme is a collaboration between businesses and the Oslo Red Cross, and aims to help women with an immigrant background to enter the job market. Through this training programme, the Olav Thon Group was introduced to a woman who worked in the accounting department of our property division from 2015-2016.